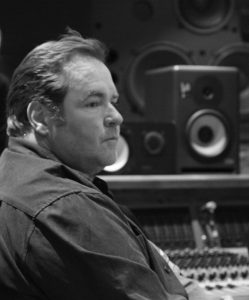 Ian has spent the last 20 years working at the highest level of the Film Sound Post Production industry both within the United States and the UK. After winning a MPSE Golden Reel Award, Sony Pictures in California offered him a position in their sound department. This lead to sound editorial work on prime time US television shows including Seinfeld and feature films such as My Best Friend's Wedding. He moved to Technicolor Sound Services in Hollywood where he embraced the position of Sound Supervisor on the hit American TV Show NYPD Blue. This lead to other successful US TV shows including Six Feet Under and Any Day Now. Later moving into movies, he became the Sound Supervisor Editor on over 20 films for clients such as HBO, Showtime, CBS, ABC and Disney, receiving three MPSE Golden Reel nominations.
During this time, Ian collaborated with many seasoned directors, producers and writers on feature films in Hollywood including Joseph Sargent, Al Ruddy (Producer of The Godfather) and the legendary Frank Pierson (Cool Hand Luke).
Ian was also charged with handling the sound track for first time film directors Salma Hayek and Adam Arkin.
In 2004 he returned to the UK and worked on the No.1 American box office success Alien vs. Predator. A year later the Australian Film Institute nominated Ian for a best sound award for his work on the film The Proposition.
Other film credits include Rock'n'Rolla for Guy Ritchie, The American directed by Anton Corbijn, which also achieved No.1 status in the American box office, Paddington and Brooklyn which saw director John Crowley's film achieve Oscar and Golden Globe nominations in 2015. Within the last few years Ian has been the Supervising Dialogue & ADR Editor on many productions including the acclaimed 'Film Stars Don't Die In Liverpool' and more recently the BBC Television series 'The Salisbury Poisonings' which in 2020 achieved a Sound Nomination at the Royal Television Society Awards.
Ian's experience of the working practices of both countries is of great benefit but also more importantly is his understanding and support of the clients needs at all levels whilst maintaining an enthusiastic, creative and flexible approach.
Awards & Nominations
Motion Picture Sound Editors Guild of America. (MPSE)
• MPSE Golden Reel Winner - The Cold Earth
• MPSE Golden Reel Nomination - NYPD Blue - Lost Israel
• MPSE Golden Reel Nomination - Bojangles
• MPSE Golden Reel Nomination - Ruby's Bucket of Blood
• Australian Film Institute Nominee - The Proposition
• Alumni – The National Film & Television School, Beaconsfield, Bucks, UK.